The Mission of Catholic Charities of the
Roman Catholic Diocese of Syracuse
is to empower people in need to transform their lives.
We strive to reflect God's love and compassion in all that we do.

Catholic Charities of Broome County was created by Monsignor Joseph Toomey in 1937, partially in response to the floods of 1936 and '37. Last year we were proud to celebrate our 80th birthday through a special dinner in which we honored some of our long time and faithful supporters.
Approximately 100 board, staff, volunteer and community members gathered at the Binghamton Club in June where we showcased our history in a special video and recognized the following groups: Ladies of Charity, Triple Cities Street Rods, Wegmans, Security Mutual Life and Iheart Media for their unflagging support for those most vulnerable in our community.
We also celebrated a long term staff member, Sally Starkweather, as she celebrated her 80th birthday. We continue on in the tradition of Monsignor Toomey and present to you a report on the progress we made in 2017 through new and innovative programs, renewal of existing programs and through continued growth in building a community of support for the mission of the agency.
We are fortunate to be blessed by a talented Executive team and staff, Diocesan leadership, Board of Directors, volunteers, donors and supporters that make it possible to serve over 50,000 people each year. Imbued with a sincere desire to serve others, it is through this set of hands and feet that we offer the work that we do as a sign of the love of God and His Son.
At Catholic Charities we welcome all those who turn to us for help and are inspired by the accomplishments of the people that we are privileged to serve.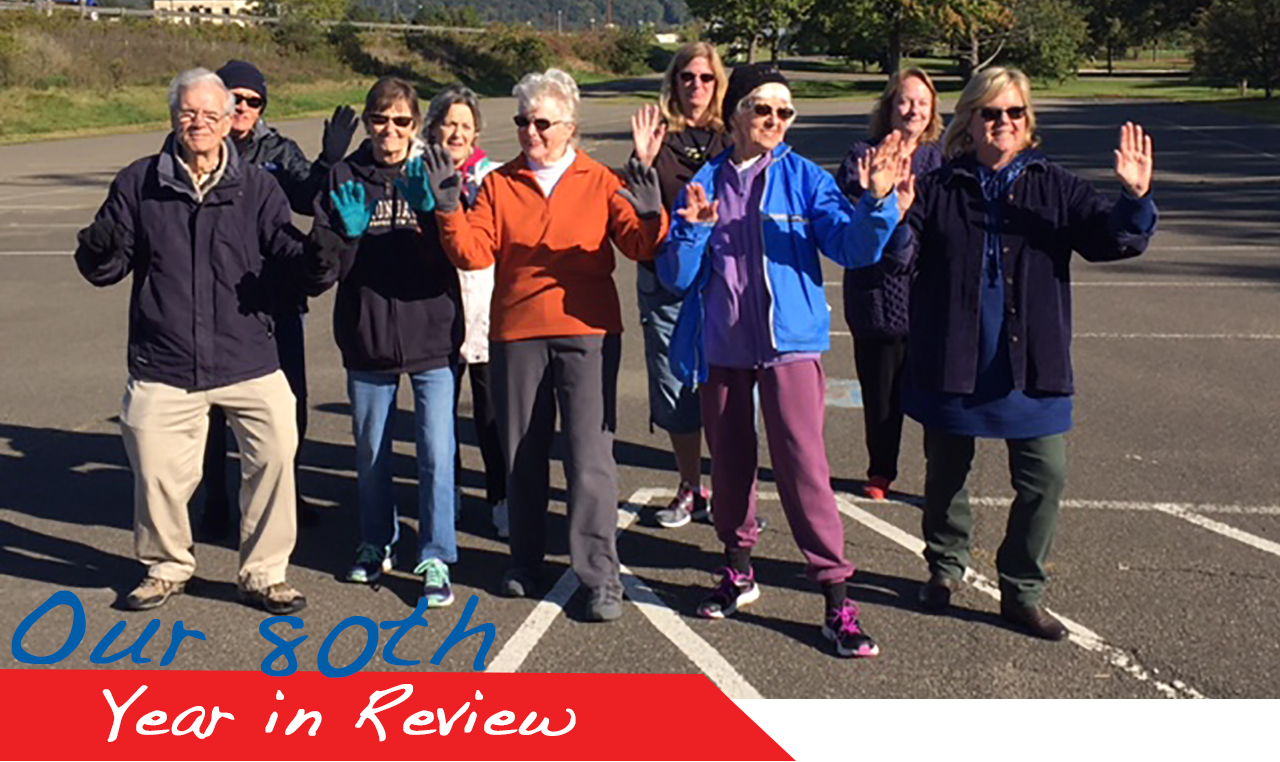 2017 HIGHLIGHTS
In 2017, Catholic Charities of Broome County celebrated 80 years of service to the people of Broome County. In keeping with the need for continued vision in the current changing health and human services environment, the agency and Encompass, its Health Home, engaged in a series of meetings and interviews with funders to analyze its current program offerings and to assess future needs. Open Minds, a national thought leader in health care, assisted staff in compiling analytical information and leading the Area Board, Encompass Governance Board and staff in a series of meetings to gather input for a strategic plan that will carry forward for the next few years.
One of the outgrowths of this agency study was the reorganization of the Mental Health and Residential Services Divisions to promote improved integration and to support the new set of Home and Community Based Services that were started to serve high need adults with a behavioral health diagnoses.
Encompass Health Home continued to expand in providing outreach and enrollment services to allow people with chronic conditions to be linked to needed services through care management. In Broome County, the Adult Health Home incorporated an evidenced based practice called InShape in conjunction with Dartmouth University. This pairs a care manager/health coach with a group of people who would like to work on weight loss goals, improving nutrition and exercise to promote overall good health.
Encompass Family Health Home had its first full year of operation working with 31 Care Management agencies in its 48 county region to serve children with high needs. Both Health Homes serve a high proportion of individuals with a behavioral health or serious emotional disturbance in order to help them achieve improved health outcomes and to avoid unnecessary hospitalizations and ER visits. At the end of 2017, over 10,000 adults and children had been served through outreach and enrollment for care management.
On July 13, Bishop Cunningham, Monsignor John Putano, Father Chris Seibt and special guest Ron Yurcus concelebrated a Memorial Mass in honor of Irene Grikenis. Irene's family and friends gathered to celebrate her life and the legacy bequest that she provided to both Catholic Charities and Lourdes Hospital. A prayer garden has been established in her honor and was blessed by Bishop Cunningham on that day.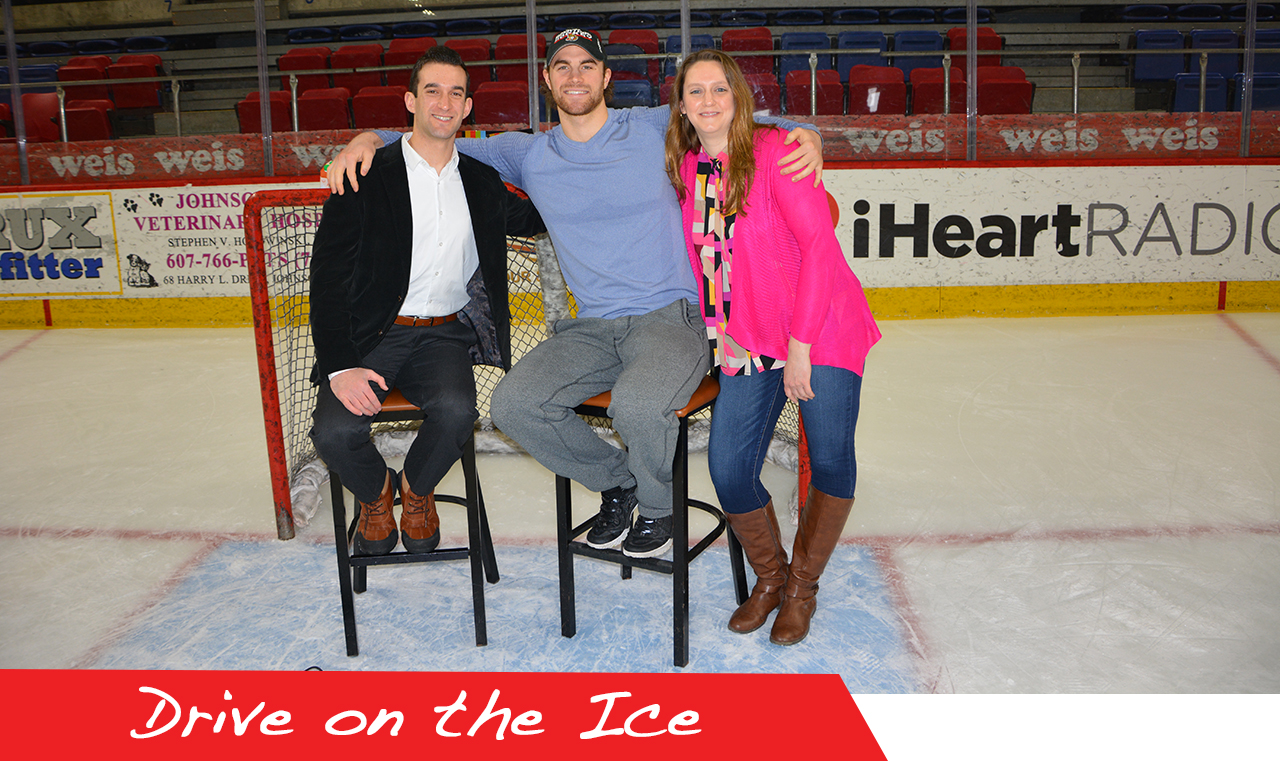 On April 7, 2017, Matt O'Connor (goalie for Binghamton Senators) asked to host a healthy food drive for children. He has a passion for children's health and food security. Matt feels that as a public figure it is his role to use his fame for good outside the rink.
Matt has studied children's development and the effects poor nutrition has on the growing child. He wanted to provide a place that people could donate healthy snacks and in return he offered to meet and sign autographs for anyone that donated during the last 3 home games.
In order to spread the word, WBNG with Michael Schwartz featured Matt's story on his program Southern Tier Selflessness. The Senators collected 730 pounds of healthy snacks initially to fill weekend snack bags for children. They enjoyed helping so much their wives and girlfriends joined us in the pantry to put Jessica's Corner bags together; these bags contain infant care items in memory of Jessica, a former pantry patron.
The wives and girlfriends were so touched by the support we offer the community that they raised funds by having the players sign pucks and sold them at the games to donate money for personal care products. In addition, when the Senators found out they were leaving the area, the wives and girlfriends brought in an additional 586 pounds of healthy foods and personal care products.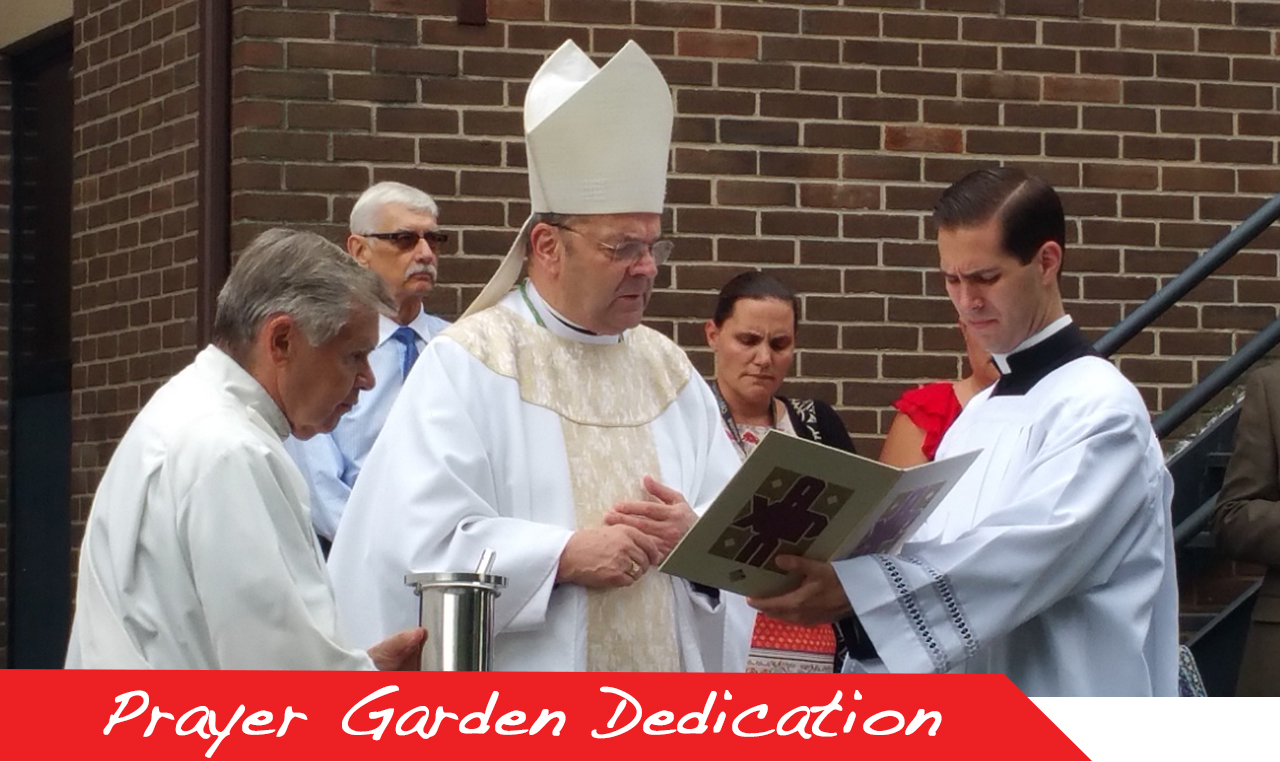 This prayer garden is dedicated to Irene Grikenis in memory of the many blessings bestowed in her life- time including her legacy gift to Catholic Charities of Broome County. Blessed by the Most Reverend Bishop Robert J. Cunningham This 13th day of July 2017.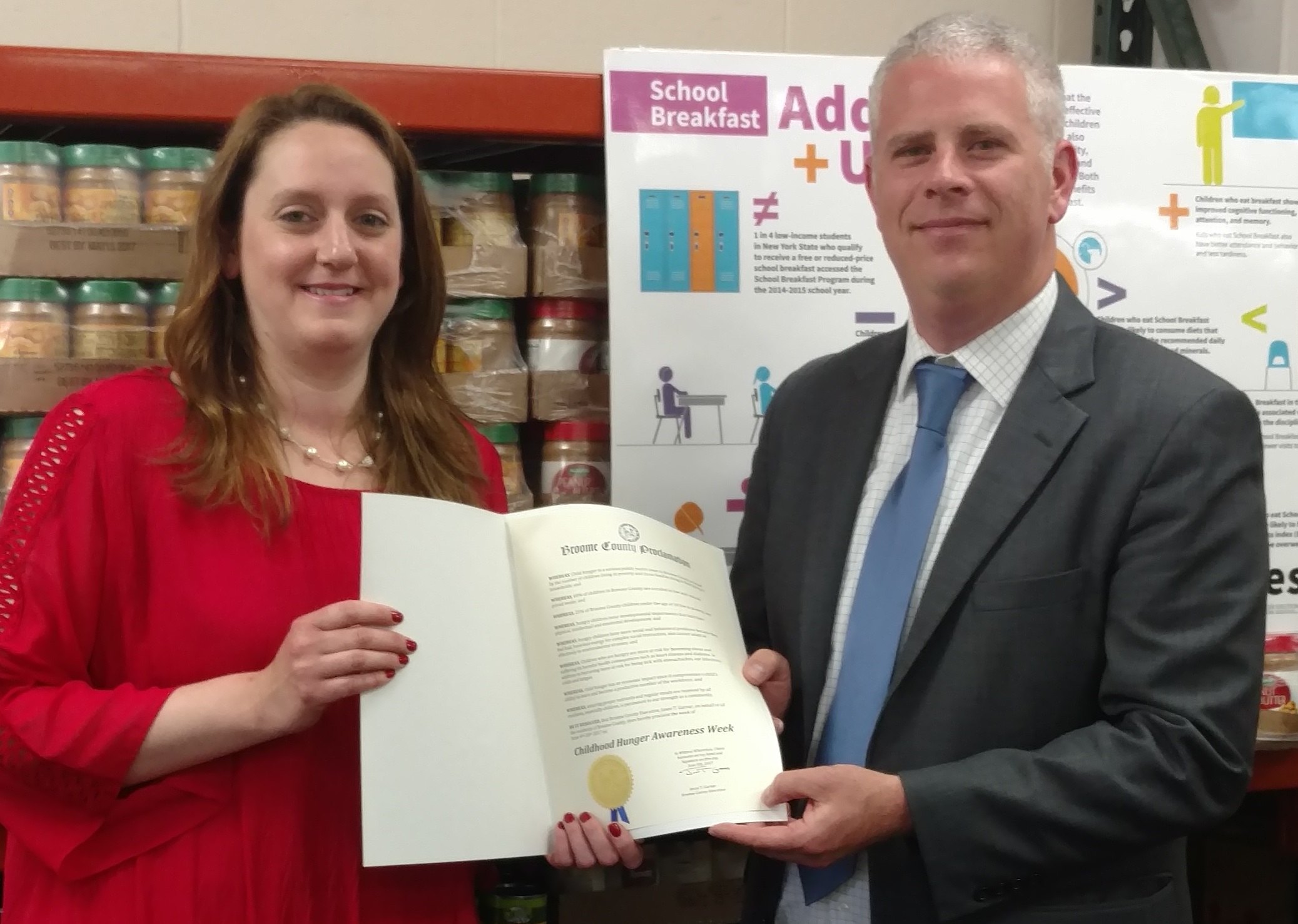 The Division served 2,850 youth, 846 families, 563 adults and 361 seniors, through programs that encourage and support personal growth and development. These community based services prevent out of home placement or psychiatric hospitalization for youth, resulting in significant cost savings.
Services also promote health and wellness by providing nutritious food, education, support, counseling, and opportunities for seniors to remain active and connected in the community.
The Economic Independence Planning (EIP) Project worked with a total of 32 adults in breaking through barriers and working toward self-sufficiency. Participants reached 57 personal goals that required job search, safe housing, budgeting, meal planning, and service navigation.
SHINE worked with 33 youth and their families in developing coping strategies, problem-solving and improved communication skills through intensive in-home coaching and skill building activities. All 33 youth were diverted from initial placement or replacement into a juvenile justice facility.
The Retired Senior Volunteer Program (RSVP) held 9 Tai Chi for Arthritis classes, 16 weeks long, with 110 seniors in attendance. 28 Osteoporosis Prevention Exercise Classes, called Bonesavers, were held, with over 200 seniors participating.
Connections Center, a school and community based program, helped 133 youth and families with counseling and group education on communication, anger management, conflict resolution, parent-child relationship, parenting, and self-esteem. All 133 participants reported improvement with their issue and satisfaction with the services they received.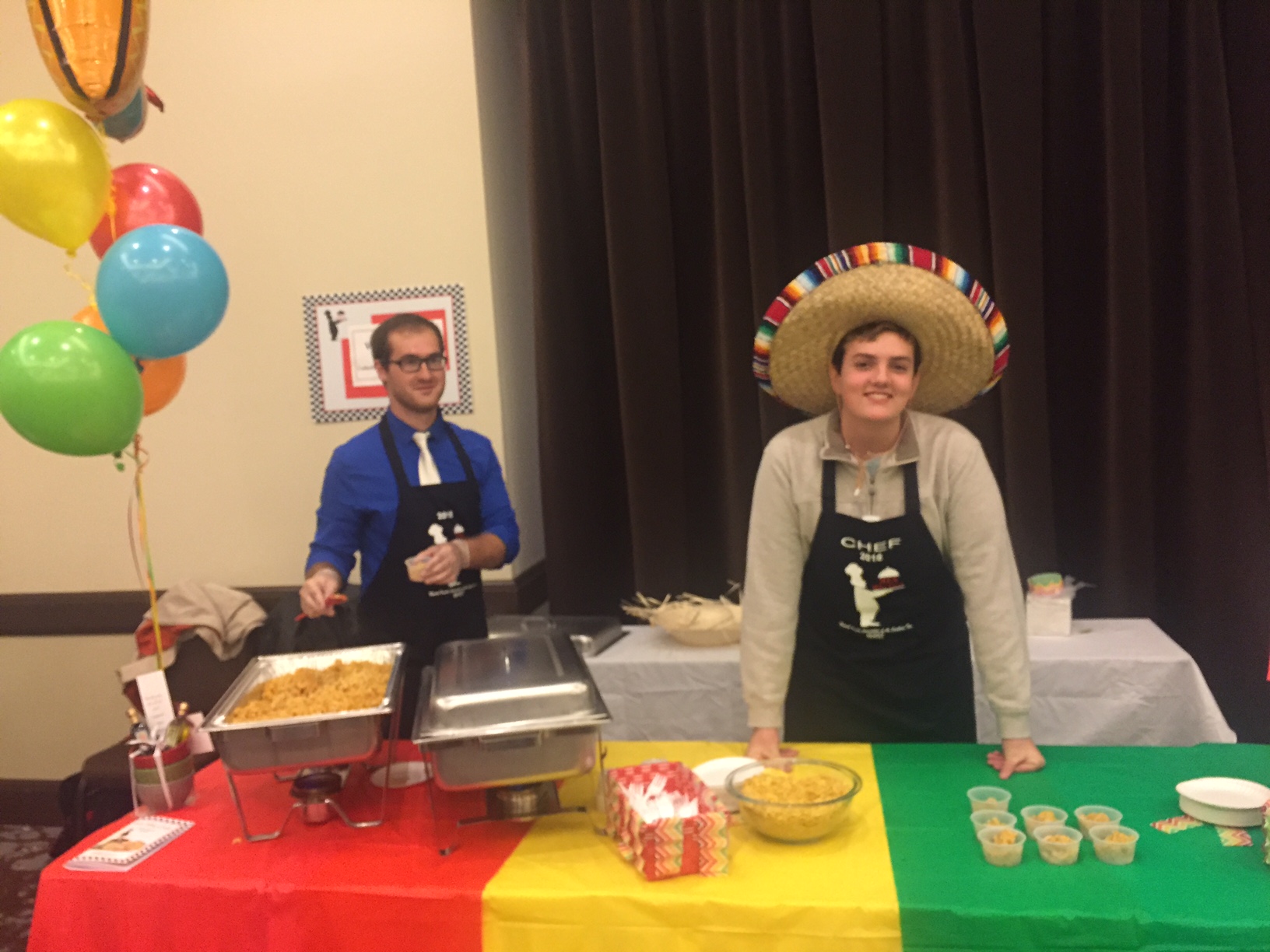 Medicaid Service Coordination (MSC) was provided to 268 individuals. Over 400 individuals were provided with housing. Supported Housing added 18 additional beds as part of the OMH Transformation plan to reduce inpatient psychiatric admissions and lengths of stay. Total capacity is now 253 slots. Satisfaction Surveys by participants of Damon Hall, Supported Housing, Twin Rivers Apartments and the Boys Community Residence showed a 99% satisfaction rating. Participants from the Intermediate Care Facility, Individualized Residential Alternative and MSC programs had a satisfaction rating of 98% as well. The Division began providing Home and Community Based Services (HCBS) to qualified individuals through a variety of recovery oriented services for persons with a serious mental illness. 16 individuals were provided with 481 units of service in areas such as habilitation, employment and family support.

When friends and housemates Angela and Lisa found themselves out of a job after services at another agency were cut, they decided to start their own business, and Gifted Sweets by Special Kneads was born. Angela and Lisa got together with their families to bake and package their goods almost every week, and they've become well-known for two of their most popular staples, apple-cranberry pie and chocolate cake with peanut butter frosting. The pair secured a booth at the Broome County Regional Farmer's Market, where they can be found almost every Saturday. On their very first week at the market they sold out of all of their baked goods within the first ten minutes. Now that Special Kneads has proven to be a successful concept, Angela and Lisa hope to expand production and distribution so that they can provide more jobs and opportunities for others with special needs in our community.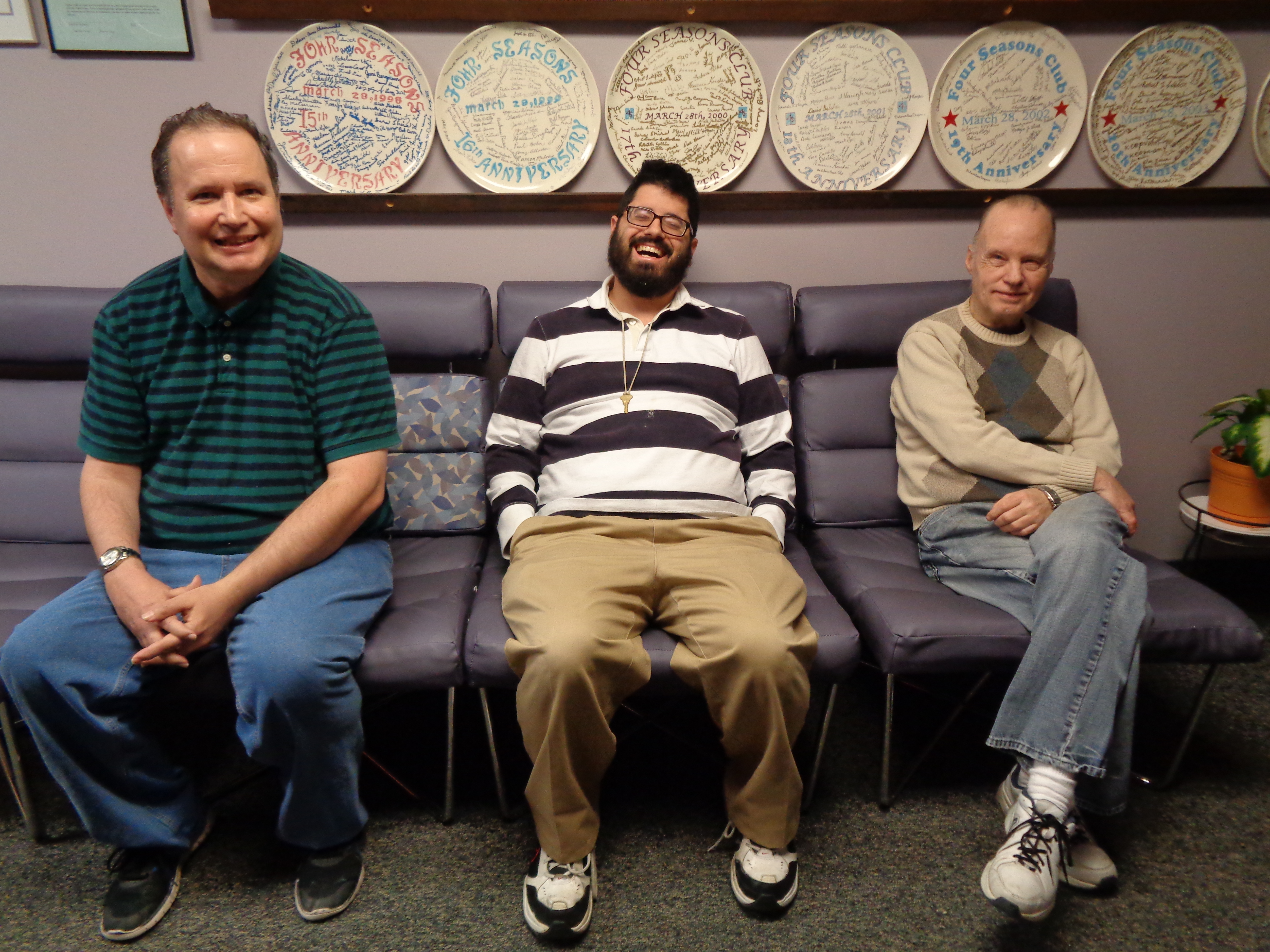 Assertive Community Treatment served a total of 79 individuals to assist them with daily living needs and clinical treatment for their serious mental illness. They provided over 4300 face to face visits over the course of the year. 98 persons were provided with employment services. Protective Services for Adults (PSA) provided case management and representative payee services to over 392 people at risk of abuse and neglect.. Services assist people in maintaining housing, finances and basic needs such as food and clothing. Peer Staff at A Stepping Stone Drop in Center provided over 5,000 units of service including self-help groups to assist in recovery, service and recreational outings and nourishing meals. Van service and discounted bus fares were provided to help people get to needed medical appointments and to other necessary community services. Over 2700 trips were provided.

Café 290 was started last year in order to prepare participants to enter the workforce successfully. Housed within the Four Seasons Club, Café 290 allows its workers to get experience in food prep, counter service and customer service. The café staff prepare fresh, nutritious homemade meals and scrumptious baked goods five days a week. This delicious food is available to members of the Four Seasons Club and to Catholic Charities staff. Employees and volunteers who work at 290 Front Street can even request delivery right to their desk! Café employee Tom Dugan says, "We get them very much up to speed so that when they go out there [to get a job] they're not going to have the chance of success, they're going to have the probability of success. They are going to be an employer's dream."


Encompass: A Collaboration of Catholic Charities and Upstate NY Partners
Catholic Charities of Broome County had its first full year of operation of its newly expanded Encompass Family Health Home, LLC in 2017. This was a significant addition to the already existing Adult Health Home which covers Broome County and surrounding areas.
Encompass Family expanded Catholic Charities' footprint to the entire upstate New York area of 44 Counties. This was done with the assistance of regional Catholic Charities Diocese offices in Rochester and Buffalo.
Encompass Family Health Home serves low income, high need children and their families by coordinating their care and collaborating with all their medical, behavioral health and community providers. Encompass Family has agreements with over 30 children's specialty providers to assist in this mission. In addition to serving children and families directly,
Encompass also provides administrative oversight and support to each care management agency with which they have contracts. Throughout 2017, 435 children and families were outreached to determine eligibility for enrollment and 767 were enrolled for services. This totals 1,202 children/families that were served through this new children's expansion.
---

New in April 2017 was also the implementation of a grant the Adult Health Home received from Dartmouth University and the National Institute of Mental Health to operate an InSHAPE program for adults. This new evidence based program is designed for adults who experience a serious mental illness and who have the desire to focus their care on losing weight, eating healthy and changing their lifestyle habits. This is accomplished through the assistance of a Health Mentor/Personal Fitness Trainer.
Encompass chose to implement this program through the services of a care manager who also operates as a certified personal fitness trainer who meets with them weekly to coach, motivate and educate members on their personal fitness goals. In less than one year, members are reporting significant improvement such as weight loss of 23 pounds, decreased blood pressure, decreased heart rate, improved blood sugar, improvements in self-esteem, improved sleep, improved social life and overall feeling better about life! In 2018 we hope to be able to further expand this program and thereby positively impacting the number of individuals being served through Encompass Health Home.
Encompass Adult Health Home also continued to grow throughout 2017. Between Catholic Charities own care managers and their seven contracted adult care management agencies, 5,006 potential members were reached out to by care managers to discuss the option to enroll and 2,708 accepted and were served through enrollment in care management. A total of 7,110 adults were served in 2017. Including all adults and children, 8,916 individuals/families were served by Encompass Health Home in 2017.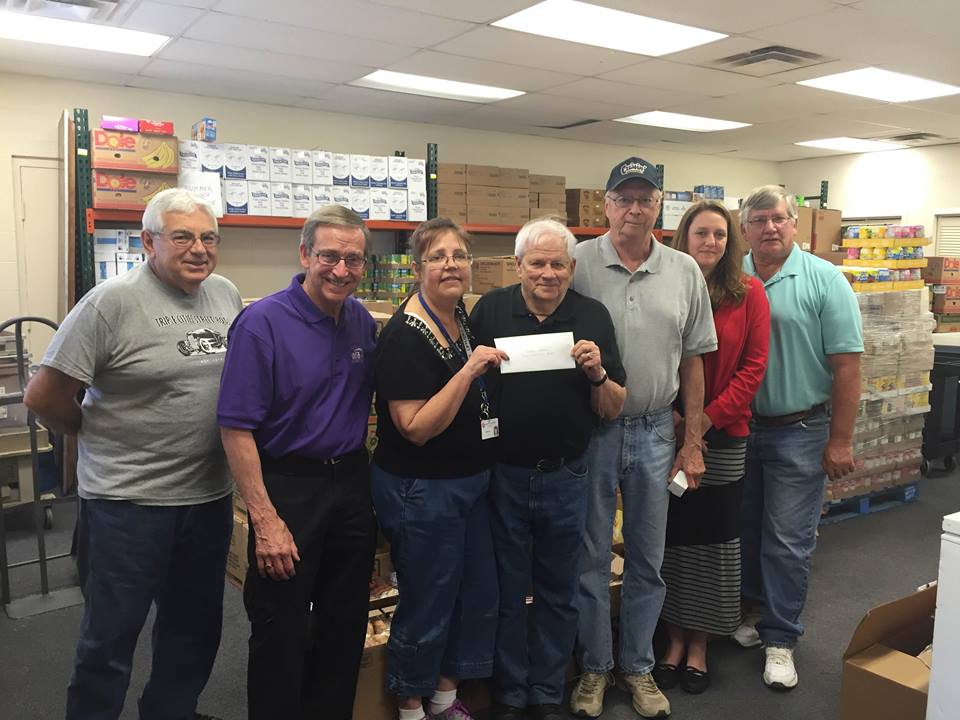 Our Main Street Food Pantry will be transforming into a Community Empowerment Center through building on its current services which offer a client choice pantry, children's summer lunch and after school snack program, onsite cooking/shopping classes incorporating nutrition and diet education and our latest offering, the Economic Independence Program.
The EIP helps individuals work on plans designed to assist them with supports with a goal of moving out of poverty. This will be enhanced with the addition of mentors who are former pantry users who will be able to share their own experiences and encourage our patrons to take advantage of new supports that will be available, such as Financial Literacy classes.
Encompass Family Health Home will be participating in a pilot to enroll family members of high need children in the five dioceses and 44 counties where it is approved to provide care management. Encompass will be working on how to provide this in a family care management approach that works to support the entire family. Medicaid Service Coordinators will be transitioning to work for the new Coordinated Care Organization/Health Home for the developmentally disabled: Prime Care Coordination. Catholic Charities will continue to be involved as a network partner of services and as a board member of this new organization where we will continue to work toward assuring the highest quality services for this population.