The Mission of Catholic Charities of the
Roman Catholic Diocese of Syracuse is to empower people
in need to transform their lives. We strive to reflect
God's love and compassion in all that we do.

2014 has been a year of great transition and preparation for change as many of our services move to a managed care environment and we pursue new program models and relationships with our parishes and sister Catholic Charities agencies within our diocese and state. Our theme is "Moving with Change, Guided by Mission" which relates to our reliance on mission to help us navigate this change. There is great potential to help others in new ways which promote health and wellness, recovery and which offer innovative approaches to poverty reduction and special needs. Please join us in looking back at some highlights of 2014. We are grateful for the leadership of our Board of Directors, the support of our donors and the tireless and enthusiastic efforts of our staff and volunteers, all striving to bring about positive changes together with those that we have the privilege to serve.
On February 19, 2014 the board hosted a meeting with local priests and faith leaders to discuss how Catholic Charities can strengthen and renew our relationships with our parishes and community partners. Three areas identified included: improved communication; collaboration around meeting the special needs of the vulnerable; and a combined voice to advocate for lasting impactful change. To address these, a liaison within Catholic Charities as well as designations of liaisons within each of our parishes was made. Individual introductory meetings were then scheduled.
The meetings with the parishes allowed information to be shared regarding the multitude of services offered by Catholic Charities as well as the services that the parishes offer, focusing on ways we can collaborate. One opportunity is for CCBC to provide some technical assistance to the parishes that run independent food pantries. There may be opportunities to assist with volume purchasing of food, transitioning to client choice pantry services and working together on developing a service to assist clients with Economic Independence Plans.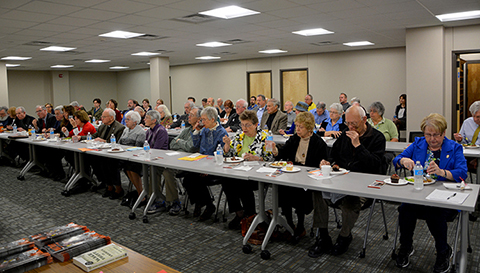 Since July Catholic Charities has responded to over 478 individuals/families that have come for assistance either through parish referrals or self-referral to the agency for help. As CCBC and the parishes continue to work together to address the needs of the community our efforts will be publicized in the parish bulletins. This will improve communication and provide opportunities to continue to educate not only about what services are available but how parishioners can help.

2014 HIGHLIGHTS
There was tremendous growth during 2014 as the Adult Health Home developed specialized teams for outreach and engagement and offered integrated care management services to those with chronic medical and behavioral health issues. Through the agency and its partners, almost 3,700 people were touched by this service and linked with wellness, recovery and specialty medical services.
An innovative new team was formed to provide early intervention mental health related services: the Southern Tier Connections Team. Offering services within the first two years of the onset of symptoms, this team offers hope and a very specialized service for those who hear voices or see things that others don't.
The Supported Housing Program achieved the highest placement level in the state for persons formerly housed in psychiatric centers, nursing homes, or other restrictive settings. Because of its positive track record, it was expanded by 55 beds to assist in helping people stay out of the hospital, decrease emergency room visits and provide help to those exiting psychiatric hospitals.
Similarly, the Children's Flex Team was expanded by 6 slots to strengthen the community support system for children with serious emotional issues and their families. This confidence in our services was echoed by increases in Hope Appeal and Fidelis Care grants which support services such as the Family Counseling Program, Emergency Assistance and Elderly Services.
Other initiatives included support to veterans in conjunction with other local groups, a more formalized approach to serving walk ins at the main office, participation in a Catholic Charities USA strategic planning project, the Balanced Scorecard and work on reviewing and restructuring our salary structure and compensation plan. Work continued on developing closer relationships with parishes.
We began work on an additional 37 parking spaces at the main office and look forward to this expanded space in the spring of 2015.
In the fall of 2014, some of us traveled to the annual Catholic Charities USA conference and were honored by a special video appearance by the Holy Father, Pope Francis I who encouraged members of the Catholic Charities network to continue to be the hands of Christ: "You are the salt, leaven and light that provides a beacon of hope to those in need."
Finally, we began work on how to better tell the story of the good work of Catholic Charities through developing a Marketing/Communication plan based on board, donor and client feedback.



COMING UP IN 2015
There are many exciting changes on the horizon, which bring with them many challenges. We anticipate continuing to strengthen existing partnerships and to explore ways to work together with others to advance our mission.
Work begun in 2014 to expand the Adult Health Home to serve children will result in an application which incorporates the first ever multi-diocesan effort to serve high need children. Talks are in progress to forge relationships with seven of the eight dioceses in order to bring the strength and diversity of Catholic Charities to children who have special emotional and medical needs. This is an unprecedented coming together, which has the potential to strengthen our services statewide.
Catholic Charities will explore new ways to help people move out of poverty including working with people to create Economic Independence Plans and through building on existing emergency services.
Efforts are underway to incorporate peer advocacy within our services. This is based on the idea that people with lived experience with receiving services can provide a unique perspective in helping others in similar situations. This may include parents of special needs children, youth who have graduated from services or people who have received behavioral health services.
Work is in progress to look at ways that we can work with our sister agencies within the Syracuse diocese to share expertise and to improve service operations.
The Catholic Charities' First Step Event will provide an opportunity for 76 adventurous people to raise funds to support our programs through rappelling down the side of a local building.
We look forward to strengthening our parish relationships and to working on new projects together including improving joint efforts to feed the poor and forging closer ties to our counseling services.