The Mission of Catholic Charities of the
Roman Catholic Diocese of Syracuse
is to empower people in need to transform their lives.
We strive to reflect God's love and compassion in all that we do.
I am pleased to present our 2018 Annual Report: "Hoping, Inspiring, Believing." Each day our staff and volunteer force of over 500 people partner with members of our community to offer hope in overcoming challenges like food insecurity, poverty, illness and special needs, homelessness and unemployment. Together they create success stories that inspire, powered by belief in the capacity of others. You will also find testimonies by our staff about why they choose to work at Catholic Charities.
This year, for the first time, we are proud to produce a special report on Encompass Health Home. We are especially proud of our 4 star rating, given by the NYS Department of Health based on our achievements in promoting positive health outcomes.
We are deeply grateful to be supported by our community through volunteer work, through monetary and in-kind donations and by a talented Executive team and staff, Diocesan leadership, and Board of Directors that make it possible to serve over 50,000 people each year. In this year of Grace declared by Pope Francis, we give thanks for the many kindnesses that come our way. "We are all responsible for the life of the community, of the common good…" (Pope Francis, 1/1/19); may such grace carry us forward as we continue our work in 2019.
2018 HIGHLIGHTS
In 2018, Catholic Charities of Broome County worked on a number of transitions that included the transfer of Medicaid Service Coordinators to a newly constituted Coordinated Care Organization, Prime Care, developed initiatives with Managed Care Organizations to help persons with a serious mental illness access supportive services under Home and Community Based Services (HCBS), implemented HCBS services such as peer and family support and worked to prepare for the Children's Flex Team to convert to a combination of Children's Health Home, under Encompass and Child and Family Treatment and Support Services ( CFTSS).
Encompass Health Home focused on developing new quality audits and processes as well as performance data which will allow for continued improvement. Special attention was given to agency care management services to address workforce issues of high turnover. This included increased training, slower ramp up of caseloads, lowered caseloads and creation of a wellness committee. Turnover was reduced by 30%.
Work was also begun on a diocesan wide project to reduce poverty based on the Padua model in Texas and other similar services in Rochester and Boston. These models focus on the use of brain science in changing how people in poverty approach solutions and have been shown to have long term effectiveness in moving and keeping people out of poverty. It is anticipated that grant application efforts will be successful in 2019.
Annual events such as the Thanks4Giving Drive and Harvest for Hunger telethon continued to be successful. The Thanksgiving appeal has been enthusiastically embraced by police and other first responders as well as local businesses and organizations.
More Than Just a Workplace: Insights on What Makes Catholic Charities A Great Place to Work
What makes Catholic Charities such a great place to work? Two employees, Beth Palmieri and Katherine Caesar, give their take on how the workplace has inspired them in both their lives and careers.
Beth Palmieri, Supervisor of the Family Peer Advocate Program, has been working for Catholic Charities for 18 years. Over that time, Beth has worked with hundreds of clients and impacted the lives of many. A powerful moment when Beth realized her positive impact happened in public, where she ran into a client that introduced Beth to her co-workers as "the person that helped her to find her voice." As a Peer Advocate, it's important to not speak for your client, but to empower them to speak for themselves.
Beth says that when she gets up to come to work in the morning, she's happy to come to work. "In eighteen years, you live a lot of life and Catholic Charities has always been there to support me with my family. They may not know that they were supporting me, but I have always felt comfortable enough to put my family's needs first." The support from fellow staff members makes working for Catholic Charities a positive experience. "I feel respected. I feel like what I'm doing matters, and that I'm appreciated for what I do. And when I walk away at night, I think – I did my best today and that's okay – which is the best part about working for Catholic Charities."
Katherine Caesar, a Registered Nurse and Care Management Supervisor at the Health Home, has been working for Catholic Charities for 6 years. Along with Beth, she agrees that Catholic Charities is an amazing place to work and is proud to be a part of the Catholic Charities family: "Coming in and seeing them every day and knowing they're out there doing their best to help people in the community live their best lives is pretty awesome."
Katherine explains that whether you've been working here for eighteen years or just a few months, everyone has different strengths and brings something different to the table. For Katherine, having an employee genuinely say to her thank you for supporting me, is really something to be proud of. Not only are the relationships with her team important, it's also the impact that you can have on someone's life. "You meet somebody for the first time and they're in such a bad place, and you just do what you have to do to help them. And in the end, you help them a great deal."
Our hope is that the pride which Catholic Charities employees find in their work inspires more to join our family. The Catholic Charities Family currently consists of over 400 employees and over 150 volunteers and interns. Each year, about 50 staff are recognized for years of service in increments of 5 years (about 10 of the 50 celebrate work anniversaries of 20+ years.) All staff are valued as the most important agency resource and supported to develop to the best of their potential, whether as entry level direct support staff or professional staff. A focus on the individual and their family as well as flexibility are cultural values of the agency.
At Catholic Charities, we recognize the work of our employees with several awards, including STAR awards, which are given for Service, Teamwork, Attitude, and Respect. "To be a STAR, you must shine your own light, follow your own path, and don't worry about the darkness, for that is when STARS shine brightest."
"I feel respected. I feel like what I'm doing matters, and that I'm appreciated for what I do."
"Knowing they're out there doing their best to help people in the community live their best lives is pretty awesome."
An Eagle Scout Spreads His Wings
After discovering a need for shelving at Mother Teresa's Closet last May, Eagle Scout Sean began working on two units with adjustable shelving and clothing rods. Through the process of fundraising, construction, and assembly, the shelves found their new home this January. His shelving units make clothing, shoes, and other supplies more accessible to those visiting or working at the Closet.
Sean was glad to help Catholic Charities and says giving back to the community is important because a small contribution can go a long way.
VOLUNTEERS: 11
HOURS: 234
SUPPORTING BUSINESSES: Lowe's, Home Depot, Taylor's Neighborhood Pizza
---
Baskets of Joy
Baskets of Joy began about 7 years ago at the Ave Maria Parish, in Parker, CO. Similar to the Giving Tree at Christmas time, those children who might not receive an Easter basket because of financial hardship, are receiving them out of the generosity of the Church of the Holy Family parishioners. We hope to expand to other local churches to help even more children.
Zoe Gamache volunteered nearly 20 hours helping at the Church of the Holy Family fish frys with the adoption of the children, putting some of the baskets together from monetary donations and with loading the Catholic Charities vans.
HIGHLIGHTS OF RESIDENTIAL SERVICES
In 2018, 683 people participated in housing and support services, designed to improve health and quality of life. Medicaid Service Coordination (MSC) was provided to 261 individuals and successfully transitioned to a Coordinated Care Organization in July.
Housing options were provided to 432 individuals with behavioral health issues or developmental disabilities; including 317 individuals in Supported Housing, 40 individuals in certified apartments, 21 individuals in Damon Hall and 10 persons in the Boys Community Residence. Satisfaction survey ratings ranged from 93% to 100%.
The 12 bed Intermediate Care Facility (ICF) and the 8 Individualized Residential Alternatives (IRA) housing 32 adults had no turnover in residents, demonstrating that individuals are satisfied with their housing and are successfully aging in place. Satisfaction ratings were 98% (ICF) and 96% (IRAs).
---
HIGHLIGHTS OF YOUTH, FAMILY & COMMUNITY SERVICES
In 2018, YFCS served 21,099 youth, 27,050 adults and 3,740 seniors through fifteen distinct programs designed to foster youth development and support families. Many of the youth served are at high risk of out of home placement and psychiatric hospitalization.
Community Respite served 149 youth through therapeutic recreation to allow families respite when raising a child with special needs. All of these youth stayed out of placement and the hospital while participating in services and for at least one year after.
The Children's Flex Team (CFT) is a Home & Community Based Services (HCBS) Waiver program that provides intensive family services to support seriously emotionally disturbed children to live at home and participate in their school and community. In 2018, 62 youth and families were served. While receiving CFT services, 89% of youth were kept out of placement and 90% remained out of placement 2 years after CFT services.
Catholic Charities' two food pantries provided 678,495 meals to 45,233 individuals; of this number, 42% were children and 8% were seniors. Pantry and emergency services are linked to our Economic Independence Program ( EIP) which assisted 40 people in working on barriers to moving out of poverty. The Mentoring Program, working in conjunction with EIP and provided by individuals with lived experience in poverty, provided support to 16 people in 2018.
Empowering Clients with Skills for Economic Independence
The Economic Independence Program was designed to help people who are struggling in life to increase their financial stability. It's an individualized program that asks those who voluntarily participate what they need in order to move their lives forward and gain economic independence. For most individuals, it's a matter of just getting a foothold, following a plan, and not giving up that helps them find success.
Chrissy: Struggling to plan a budget, Chrissy found herself without the funds to heat her family's home. After guidance from EIP, Chrissy now better understands how to prioritize and save a proper amount of funding.
Mike: After losing his home in one night, Mike and his children suddenly found themselves homeless. With the help of EIP, Mike now lives in a nice, three-bedroom home in a good school district and feels optimistic for the future.
---
HIGHLIGHTS OF MENTAL HEALTH SERVICES
A total of 1005 individuals received services in 2018. The Assertive Community Treatment Team (ACT) served 79 adults, providing the full range of treatment and community support services to support recovery.
85 individuals received Employment Services including job development, placement and job coaching. Protective Services for Adults (PSA) provided case management and representative payee services to 508 individuals, helping to prevent victimization, homelessness and neglect. Four Seasons Social Club admitted 18 new members, serving a total of 79 individuals with an increased focus on offering group activities.
The 290 Café served daily breakfast and lunch to employees and club members and had two trainees graduate to community employment. Stepping Stone Drop-In continues to provide a safe, non-threatening environment staffed by peers, offering participants an opportunity to socialize and enjoy various activities. Total visits were 4091, with a daily attendance of 16. There were 138 discounted bus passes sold each month to help individuals attend medical appointments and other community services.
Preserving Dignity: Meeting Clients Where They're At
Home and Community Based Service (HCBS) began during 2017. It is a service which became increasingly popular in 2018 as referrals more than quadrupled from the previous year. The number of referral sources increased from 4 in 2017 to 9 in 2018. HCBS currently provides services to 84 individuals. The goal is to keep people out of hospitals and rehabilitation centers by providing support to individuals in their home or community rather than an office setting. There are nine different areas of support. The most popular is habilitation (HAB) which offers support in budgeting, shopping within a limited budget, cooking, cleaning, organizing a household and learning how to mail correspondence. People typically have limited experience in these areas and seek opportunities to practice skills. Empowerment and Peer Support is also very popular as it pairs the individual with someone who has lived and experienced mental health symptoms. This service has a wait list of 37 individuals. Individuals receiving HCBS receive 2 to 3 visits per month for a period of 6 to 9 months.
Ruby: Diagnosed with cancer, Ruby had given up on life and spent most of her time in bed. After starting this program, she found herself starting to get up and walk again with new motivation and a mindset that "life is worth living."
Tracey: Following a suggestion from her Mental Health Counselor to do some volunteer work, Tracey has found new purpose by meeting with people at Catholic Charities: "without that one small glimmer of hope, I'd probably be dead by now."
Brandan: A recovering addict, Brandan has learned through HCBS how to better manage stress and feels more confident planning a budget. He is thankful for the counselors who are always focused on his well-being and where he is at in the moment.
---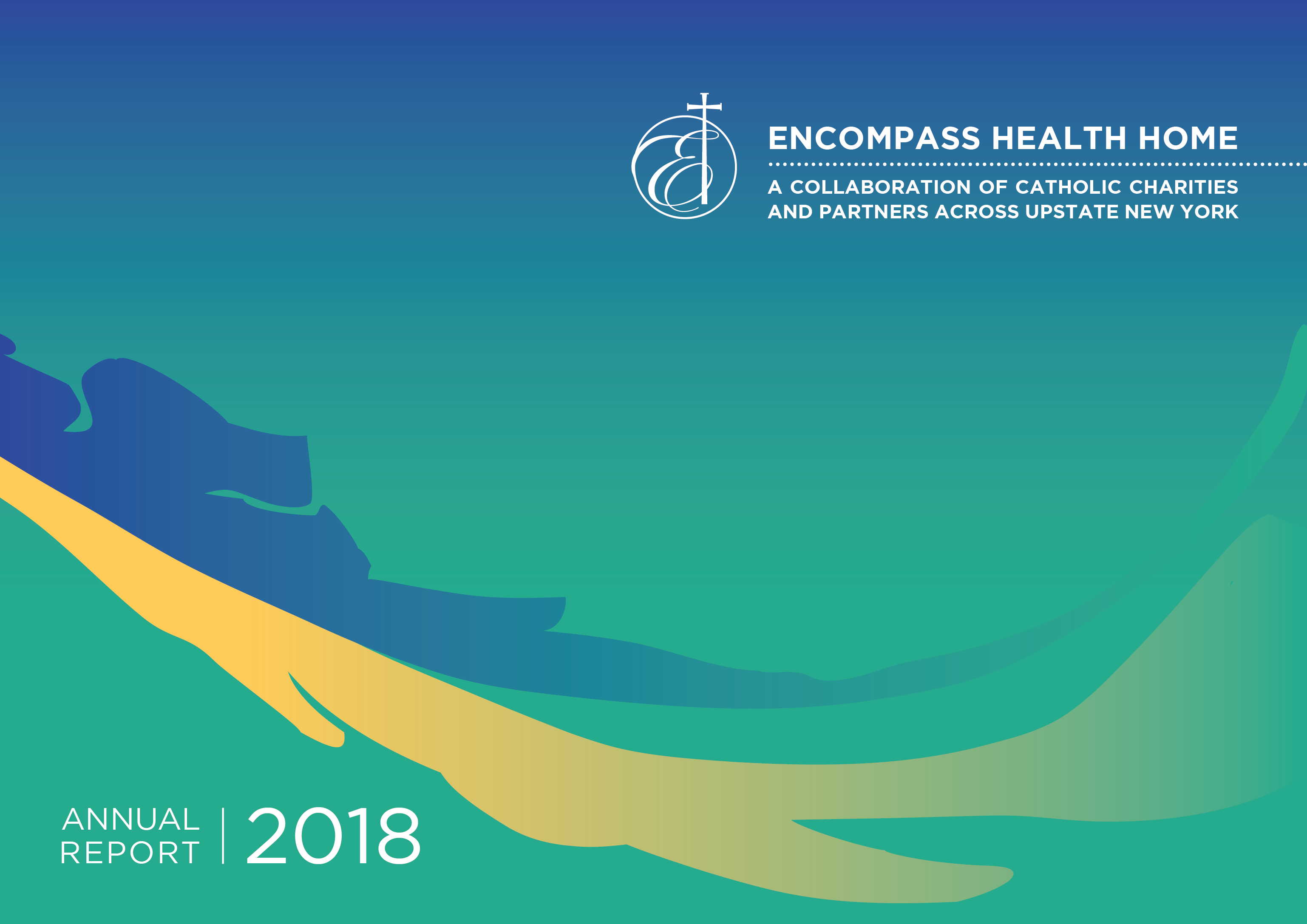 ENCOMPASS
Our Mission: With a passion for health and compassion for all people, Encompass is committed to connecting children and their families to their chosen services and supports in a way that is respectful of their preferences, culturally sensitive to their needs and directed in a way to promote the most positive health outcomes for mind, body and spirit.
History of Service: Encompass Health Home provides care management throughout upstate New York and is a collaboration of Catholic Charities agencies and its local community partners throughout all of the upstate region. This collaboration began in 2012 when Catholic Charities of Broome County was awarded and designated by the NYS Department of Health to operate as a lead Health Home for adults in Broome County. The agency then built on this role when they were again approved to be a lead Health Home to serve children in 2016. Currently, Encompass has contracts with 9 adult community provider agencies, 35 child serving agencies and 10 Managed Care Organizations.
The Care Management Service Model: A Health Home is not a home at all. It is a network of providers, health plans and community-based organizations that work with Medicaid eligible individuals with complex medical and behavioral health needs to access services and supports. Health Home services support the provision of coordinated, comprehensive medical and behavioral health care to low income Medicaid members with chronic conditions. This is achieved through care coordination and integration that assures access to appropriate services, improves health outcomes, reduces preventable hospitalizations and emergency room visits, promotes use of Health Information Technology (HIT), and avoids unnecessary care. This Care Management service model ensures that all individual's caregivers communicate with one another so that all of a member's needs are addressed in a comprehensive manner. The Care Management service model is done primarily through a "care manager" who oversees and provides access to all of the services an individual needs to assure that they receive everything necessary to stay healthy, out of the hospital and in the comfort of their own home.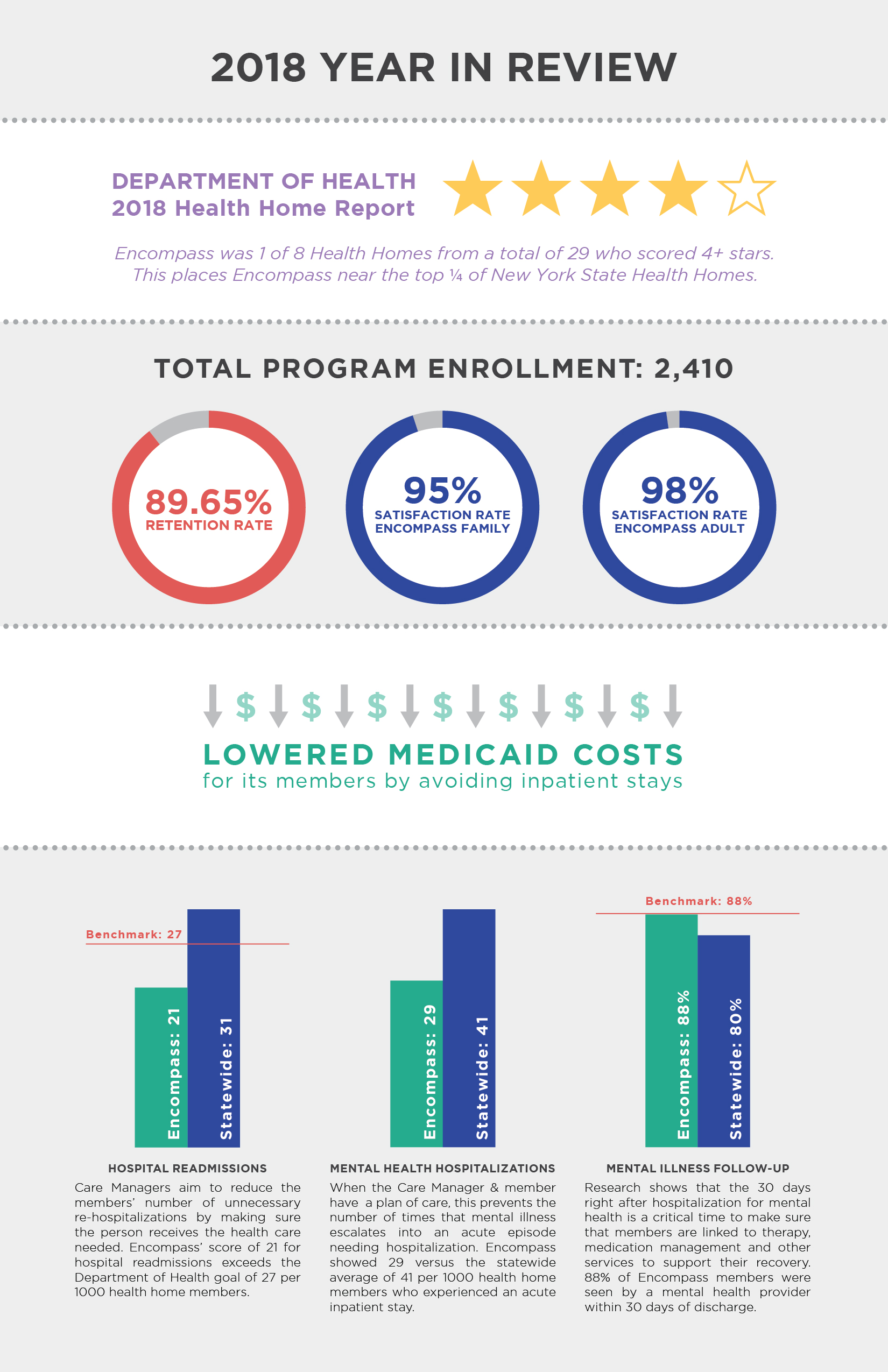 ENCOMPASS ADULT
In 2018, Catholic Charities administration took several steps to improve services for members and develop a stronger program.
Changes that were implemented to strengthen the program and provide staff with the tools they need included:
A care manager specific training program (including shadowing and field work prior to any new cases)

Retreats and team building days to plan and elicit input from each team on ideas to improve the program

A Wellness Committee to address the health and wellness needs of staff members
Throughout 2018 there was a large push from DOH, OMH and the Lead Health Homes for all Care Management Agencies to conduct the Community Health Assessment for Health and Recovery Plan (HARP) enrolled behavioral health members who are eligible to receive additional home and community based services (HCBS). Staff were required to conduct a specific additional assessment and subsequent plan of care for those members who chose to enroll in this new array of services. This has now been added into the regular work flow and initial training done with care managers who are able to readily incorporate into their daily responsibilities.
In 2018, caseload size was decreased from 40 to 35. This has allowed care managers to provide better quality services.
Bernard: Before working with Encompass, life was unbearable for Bernard. On drugs and unemployed, he was always in and out of the hospital and never made his appointments. After getting out of jail, Bernard found help from his Care Manager, Ngozi, who stepped in to help fulfill his basic needs, such as housing, clothing, and proper medication. Ngozi also helped Bernard get established with a doctor and therapist, and makes sure he attends his appointments. While hesitant to accept her help at first, Bernard now realizes the impact that she has had on his life and is thankful to have her checking in on him. Bernard says that what sets Encompass apart is that the people actually care about you and want to see you do good.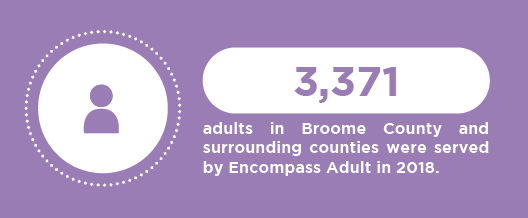 ENCOMPASS FAMILY
The staff spent the 2018 year focusing on improving the quality of services and practicing best documentation procedures. Additional Health Information Technology tools were implemented to allow care managers to access more real time behavioral health information, enabling them to better perform their job.
Staff also continued to educate community providers and families on the goal and purpose of Health Home services and established greater collaborations with local community providers. Collaboration around the SPOA process also continued to evolve throughout 2018 and referrals are reviewed regularly for care management services.
Staff continued to attend numerous trainings and implement policy changes throughout the year which presented a challenge in developing new work-flow processes with each change. Despite numerous challenges, the staff were able to minimize any negative impact on the youth and their families and they achieved a 97% satisfaction rating at the end of 2018.
Catholic Charities Family Care Management continued to expand its services through its second full year of operation as a Health Home care management agency. They served 165 children and families, 151 through enrollment and an additional 14 in outreach. This was done through the caring services of eight care managers and a supervisor. They carry on average 19 individuals on a caseload of youth/families with varying needs.
ENCOMPASS FAMILY GOVERNANCE BOARD
Jack Balinsky, Diocesan Director of Catholic Charities of the Diocese of Rochester
Vincent Colonno, CEO Catholic Charities of the Diocese of Albany
Michael Lawler, Director of Catholic Charities, NYS Catholic Conference
Michael Melara, CEO Catholic Charities of the Diocese of Syracuse, Chair
Dennis Walczyk, President and CEO Catholic Charities of the Diocese of Buffalo
SUCCESS STORIES
Reanna: Growing up in an unstable home environment, Reanna found herself getting roped into trouble with her parents and having problems at school. Since working with Encompass, she has transferred to a new school and has found activities to participate in that give her an outlet for her energy. Reanna is hopeful for the future and is thankful for her care managers' constant support.
Antonio: Antonio used to go days without attending school, instead staying home to play video games. Since working with Encompass, Antonio's mother has learned better ways to provide structure to support her son in going to school. Forming a plan to take away his game's power cord on certain days, Antonio's school attendance has greatly improved. He continues to make progress, and has even started to participate in after-school activities.
Tyler: Tyler received a wake-up call on his latest birthday that if he didn't get his act together, his reckless attitude would ruin his life. His violent behavior and feelings of entitlement have changed since working with Encompass. He has learned how to master his emotions and has become active in school. Tyler now realizes that life should be more about helping other people and he hopes to do this after graduating from High School this June.


LOOKING AHEAD
In 2019, we look forward to working on new initiatives with new partners:
Through Home and Community Based Services Infrastructure funding, we will be working with Excellus and Fidelis, Medicaid Managed Care, to provide assessments for individuals eligible for Health and Recovery Plans (HARP). We anticipate reaching out to over 400 individuals with a serious mental illness in Broome to connect them with needed support services.
In conjunction with the Office of Mental Health, we will be continuing to implement a High Fidelity Wrap Program which serves children at the highest level of need through a team based approach. Team members have been in training and include care managers and family and youth peer advocates.
We will be converting the Children's Flex Team into two sets of services: Individualized Care Coordinators will become Children's Health Home Care Managers and other team members will be augmented to provide Child and Family Treatment and Support Services. Services will include therapy, rehabilitation services and family peer support. This is expected to expand the number of children and families that will have access to these services and will occur in coordination with Medicaid Managed Care Organizations.
Plans are underway to bring together a number of programs that are out of space into a new facility. This will allow for future expansion and integration of services.